GOODBYE, ORCHID is one of the most anticipated 2020 fall reads: Buzzfeed l Parade l Travel+Leisure. Winner: 2020 American Fiction Award l Pinnacle Achievement Award.
"Page-turner" "Breath of awe" "Tugs on your soul"
What happens when an entrepreneur suffers an accident that changes him forever and he has to decide: to love his woman, will he need to leave her?
One July morning in Manhattan, handsome athlete and entrepreneur Phoenix Walker accompanies his love, half-Asian beauty Orchid Paige, to the airport. Neither believes today is goodbye.
But soon after Orchid leaves, disaster strikes.
Phoenix wakes in the hospital, broken, forever changed.
Now, he's faced with the hardest decision of his life. Does he burden the woman whose traumatic childhood makes him feel protective of her? Or does true love mean having to say Goodbye, Orchid?
Rising from ashes is hard. Leaving the one you love is harder.
"A tale of sacrifice and rebirth; heroism is in the details."
—SSGT Aaron Michael Grant, author of TAKING BAGHDAD: Victory in Iraq With the US Marines
For fans of Me Before You and Fault in Our Stars, Goodbye, Orchid asks…
"What choice does a wounded hero have when loving his woman means breaking his own heart?"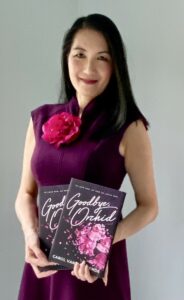 Short BIO: CAROL VAN DEN HENDE is an award-winning author who pens stories of resilience and hope. She's also a speaker, strategist, and serves on nonprofit boards. One secret to her good fortune? Her humorous husband, fun-loving twins, and rescue cat, who prove that love really does conquer all.
Please sign up for Carol's newsletter at carolvandenhende.com/contact or linktr.ee/cvdh
SOCIALS
https://www.goodreads.com/book/show/54297964-goodbye-orchid
https://www.instagram.com/carolvandenhende/
https://fb.me/CarolVandenhendeAuthor
https://carolvandenhende.com/contact
https://www.youtube.com/channel/UCfd3hQ4FIY53zafnVOlM81Q
Free chapter one by entering email address here: https://dl.bookfunnel.com/sdw0qzrf7q
BUY LINKS
https://www.goodreads.com/book/show/54297964-goodbye-orchid
https://www.barnesandnoble.com/w/goodbye-orchid-carol-van-den-hende/1137193883?ean=9781646631889
https://www.booksamillion.com/p/Goodbye-Orchid/Carol-Van-Den-Hende/9781646631889?id=7964592335699
https://bookshop.org/books/goodbye-orchid/9781646631889
https://www.target.com/p/goodbye-orchid-by-carol-van-den-hende-paperback/-/A-80666220
https://www.indiebound.org/book/9781646631889